The 2017 Journeys Alternative Press Music Awards took place last night, and we are proud to see so many Ernie Ball family members are among the winners. Check out the results below!
Icon Award
Laura Jane Grace of Against Me!
Laura Jane Grace –  founder, singer and guitarist of Against Me! – was presented with the Icon award by fellow Ernie Ball artist Lynn Gunn of PVRIS. In addition to receiving the award, Against Me! also performed several songs. Watch the video of that performance below:
Artist of the Year
Panic! At The Disco
Panic! At The Disco received this year's Artist of the Year award. Frontman Brendan Urie was unable to attend as he is currently performing in a Broadway production, so he recorded a quick thank you message:
Album Of The Year
Pierce The Veil – Misadventures
Pierce The Veil took home the Album of the Year award for their recent record Misadventures. Watch the band's acceptance speech in the video below:
Best Guitarist
Jordan Buckley – Every Time I Die
Jordan Buckley of Every Time I Die took home the Best Guitarist award. Jordan wasn't able to attend the show, so he sent his father in his place to accept the award (from fellow Ernie Ball artist Chad Ginsburg of CKY). Watch Mike Buckley in the video below:
Best Music Video
State Champs – Losing Myself
State Champs received the Best Music Video award for the Losing Myself clip. Watch the music video below…
…and watch the band's acceptance speech in this video:
Best Hard Rock Artist
The Pretty Reckless
The Pretty Reckless received the Best Hard Rock Artist award, which is a bit different than all the other awards in one particular way: it's voted on by the fans. Watch the band's acceptance speech in the video below:
Best Live Band
Falling In Reverse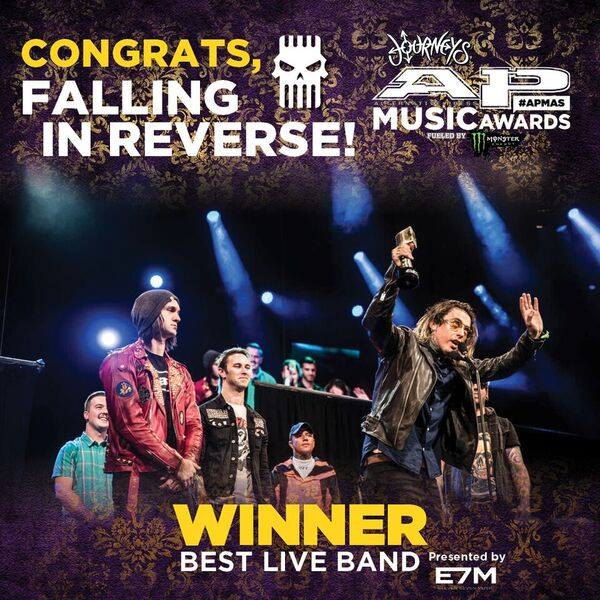 Falling In Reverse took home the Best Live Band award. Watch the band's acceptance speech in the video below:
Bonus Content
Additionally, Ernie Ball artists Sleeping With Sirens performed their new track "Legends," from the band's upcoming record Gossip, with help from a children's choir.
The track was also recently selected as the official song of the U.S. Olympic team on their road to the Winter Olympics.